At acre security, we provide innovative digital workplace solutions, including our Visitor Management Solutions portfolio. We have the privilege of being trusted and deployed across thousands of worldwide locations by top brands like Google, GoDaddy, and LinkedIn.
Today, we're speaking with Caroline Laporte, the Global Product Manager - Visitor Management, a key member of our team. She'll provide you with an insider's perspective on the importance of visitor management systems in today's workplaces.
Acre security Solutions: Building a Safe, Reliable & Efficient Workplace
Caroline, could you summarize the range of solutions provided by acre security?
Certainly. At acre, we focus on creating a safe, reliable, and efficient workplace through a variety of solutions. These include Visitor Management, Access Control, Emergency Evacuation, Workplace Safeguarding, and Student Attendance. Each solution is designed with our customer's unique needs in mind.
How does the Visitor Management Solutions portfolio enhance security at workplaces?
The Visitor Management Solutions portfolio plays a crucial role in enhancing security. It provides a seamless check-in experience for guests while maintaining a high level of security. Our system captures visitor information, takes photos, prints badges, and facilitates the collection of signatures on legal documents. This meticulous approach ensures the accurate identification and accountability of every visitor, thereby greatly enhancing workplace security, all while maintaining a seamless visitor experience.
The Impact of acre security's Solutions
Can you share some examples of how acre security solutions have been implemented and their impact?
Absolutely. Our solutions are versatile and adaptable. For instance, our Visitor Management System has been successfully implemented by multinational corporations and within the pharmaceutical and aviation industries. We've received positive feedback from our clients, who have found our system to be integral in enhancing their security and improving their operational efficiency.
By seamlessly integrating our visitor management solutions with their security systems, our clients can closely monitor entry to their premises and track the movement of individuals within. Our advanced solutions not only eliminate the need for manual data entry and redundant processes but also bolster security by preventing unauthorized access. Additionally, our system provides a comprehensive audit trail, ensuring a clear record of visitor movements. Experience enhanced control and peace of mind with our cutting-edge visitor management solutions.
How does acre security's Visitor Management System contribute to creating a positive first impression for visitors?
A well-managed visitor experience significantly contributes to the overall impression of a company. Our Visitor Management System creates professional and smooth check-in experience for visitors, allowing them to feel welcomed and valued. Features like pre-registration and automatic notifications help to reduce wait times, while our sleek and intuitive interface adds a modern touch to reception areas. By streamlining the visitor check-in process, we help businesses make a great first impression, which can be crucial in building strong relationships with clients, partners, and other stakeholders.
The Importance of Visitor Management Systems
From your perspective, why are visitor management systems so important in today's workplaces?
Visitor management systems are crucial in maintaining the security and integrity of a workplace. They not only ensure that every visitor is accounted for but also streamline the check-in process, enhancing the visitor's experience while ensuring compliance with company policies.
How does acre security ensure data privacy in its Visitor Management System?
At acre security, we place the utmost importance on data privacy. Our systems are designed to be secure and GDPR compliant. We ensure that the data collected is encrypted and stored safely. Moreover, we give our clients full control over their data - they can decide how long they want to keep visitor information. We are committed to upholding the highest standards of data privacy and security."
Overcoming Challenges
What are some challenges acre security has faced in developing or implementing its solutions?
Like any tech company, we have faced challenges in ensuring our solutions remain cutting-edge and meet the diverse needs of our clients. However, our team's dedication and expertise have empowered us to overcome these hurdles and consistently deliver exceptional products.
How has the shift towards remote work affected the need for visitor management systems?
While the shift to remote work has resulted in fewer in-person visits, the need for visitor management systems remains strong. In fact, in many ways, it has become even more critical. Even in the context of remote work, there can be deliveries, maintenance visits, or occasional on-site meetings. Our visitor management solutions ensure that these instances are managed with the same level of security and efficiency.
In the evolving landscape of hybrid work, an advanced visitor management system becomes crucial. It optimally manages space allocations and ensures adherence to capacity limits. What is more, acre security solutions are instrumental in supporting the tracking of employee and visitor interactions, enabling effective contact tracing if needed. This solution is a vital tool for managing and supporting a safe and efficient hybrid work environment.
Integrations and Benefits
How do acre security's solutions integrate with other workplace apps and what are the benefits of these integrations?
Our solutions are designed to seamlessly integrate with various workplace apps, making them more accessible and user-friendly. These integrations enhance data sharing, improve operational efficiency, and provide a more holistic view of the workplace environment.
How does acre security's Visitor Management Solutions support businesses in maintaining compliance with industry regulations?
Incorporating compliance into our solution design is a core focus for us at acre security. We understand that different industries have different regulatory requirements for visitor management. Our system is designed to be flexible and customizable, allowing clients to align it with their specific compliance needs. This includes features like pre-registration, badge printing, visitor agreement signing, and a detailed audit trail. These capabilities not only help businesses meet industry regulations but also demonstrate due diligence, if ever needed.
Looking Ahead
What does the future of visitor management systems look like according to you?
The future is digital. As workplaces become more technologically advanced, visitor management systems will evolve to offer even more features, such as real-time tracking and enhanced customization options. At acre security, we are always looking ahead and working to stay at the forefront of this evolution.
What future developments can we expect from acre security's Visitor Management Solutions?
We're constantly innovating to stay ahead of the curve. Soon, we're planning to incorporate features like real-time analytics, deeper integration with other systems, and even more customization options. Ultimately, our goal is to provide a solution that is not just about visitor management but becomes a tool for enhancing overall security and productivity in the workplace.
Customer Stories
Could you share a customer story that stands out to you?
Google sites draw in thousands of visitors worldwide annually. They opted for our Visitor Management application to efficiently handle this significant influx of visitor traffic while upholding the highest standards of visitor experience.
We collaborated with Google to develop an exclusive Visitor Management solution with integrated Access Control capabilities. Google's core principle - to focus on the user and all else will follow,' guided this effort. In partnership with Evoke, a hardware design company, we meticulously designed and built the Visitor kiosks to deliver a distinctive user experience that aligns seamlessly with Google's renowned tech-driven office environments. This innovative Visitor Management solution empowers visitors to pre-register, capture photos, consent to NDA agreements, and read barcode IDs.
About Caroline Laporte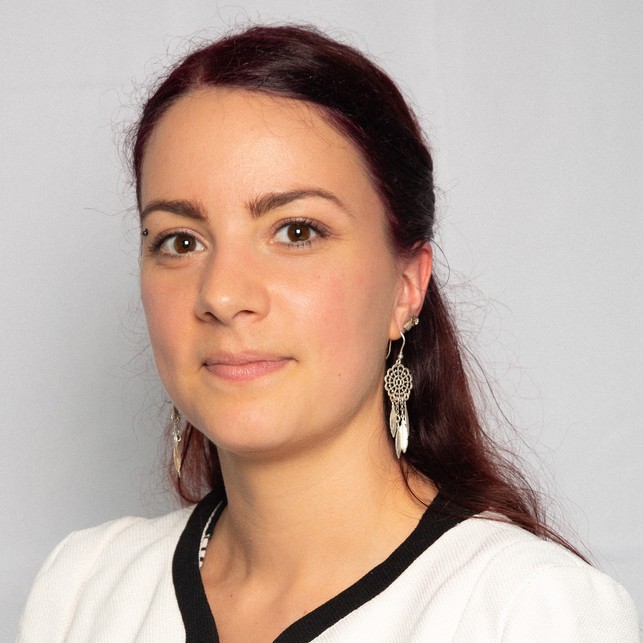 With over 8 years of dedicated experience in security and workplace management, Caroline brings a wealth of expertise to the table. As a Product Manager, she is passionate about conceiving innovative solutions that enhance safety and operational efficiency. Her impressive 6-year tenure at TDS Visitor (now Acre Security) is marked by an unwavering dedication to implementing customer-centric strategies and continuously improving user experiences.
Caroline's extensive experience, customer-focused approach, and relentless dedication to improving user interactions have played a pivotal role in the development of innovative Visitor Management Solutions. In a rapidly evolving landscape where security and workplace management intersect, her expertise empowers organizations to thrive by creating cutting-edge solutions.
About acre security
Acre security is a global leader in the delivery of resilient digital and physical security solutions for every business. Keeping your people, premises, and data safe is as important to us as it is to you. We protect your valuable assets with a single portfolio of cloud, on-premises, and hybrid solutions.
Acre security offers a broad array of solutions including access control, visitor management, intrusion, workplace, transmission, and connectivity solutions – all hosted in a way that suits you. Since 2012, we've focused on advancing security initiatives to deliver tailored, robust, and future-proof solutions to tens of thousands around the globe. Working across banking, education, healthcare, pharmaceutical, retail, and more, we give our customers peace of mind that their data, offices, and employees will stay safe.